Type of Hunt

We only allow one hunting party access at any one time. YOU decide who is in the hunting party, NOT US. One professional hunter/guide will service the entire party. THIS SAVES YOU MONEY!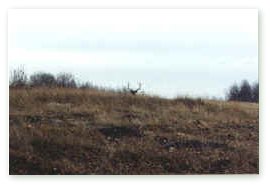 We prefer to book hunts for a minimum of three days for hunting parties of one to two persons, plus an extra day for each additional hunter in your party, or trophy in excess of two. This will give you an opportunity to harvest the animal of your choice and fully enjoy the experience. In fact, we prefer this so much that we offer a guarantee if these minimums are booked. Check it out under "GUARANTEE!"
This is not a difficult hunt insofar as the animals' range is limited by high fence and the terrain is navigable by All-Terrain Vehicle. Spotting and stalking is what many of our clients find particularly enjoyable.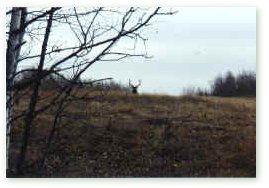 Alternatively, some clients prefer to bait and wait. All-weather blinds are strategically located for this purpose. This is particularly popular amongst our bow hunting clients.
Sometimes part of the hunting party will flush a group of animals into a clearing or from one bush to another while the hunter awaits his opportunity.
The elk respond extremely well to "cow-calls" during the rut. In fact, your professional hunter is so good at producing "cow-calls" and bringing the bulls out of the bush that you may not want to be standing too close when he decides to try!
Your professional hunter will make every effort to help you harvest the trophy animal of your choice!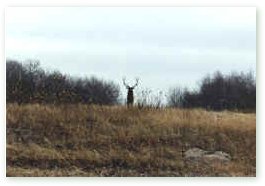 You do not have to be in top physical condition to enjoy your hunting experience with McKen Hunting. The physical condition of our clients has spanned a broad range. For example, one of our clients is a black belt marshal arts instructor, while some others have heart conditions. All have enjoyed their hunting experience at McKen hunting and are recommending us to their friends and associates.
We make a point of doing the hard work, such as retrieval of the harvested animal, field dressing, caping, transport of the carcass to the butcher shop, and preparation of your cape and antlers for shipping. We want your experience with McKen Hunting to be exciting, yet relaxing, enjoyable, rewarding, and memorable. We know that the best sales tool is a satisfied customer!